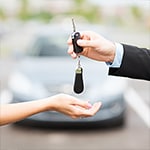 Volvo Cars Cincinnati East wants to give you the information that you need to be an informed car buyer. We know that purchasing a used car can be stressful. These tips and suggestions will make the process smoother, and they can help you be more satisfied with your used car choice.
You need to use all of the tools at your disposal when you are buying a used car. This means getting access to things like a vehicle history report. Pricing guides are also good for giving you an average price range. Of course, the test drive is always something you should consider as an indicator of whether or not a car will work for you. Leave nothing to chance and do your homework.
We welcome you to visit us at our dealership here in Cincinnati where you can test drive any of the used cars in our inventory. We want to make your car purchase a pleasant experience.